I attended PartnerCon in October and was delighted to get a sneak peak into updates and improvements to the product that are coming our way.
PartnerCon is an Infusionsoft event for people who sell or support Infusionsoft and we get to hear first hand what's happening with the company and product.
There are definitely some cool features shown that are actually going to be released in the November 2016 product update.
I'm particular excited about the following: 
Campaign Categories
Changing Goal Types
Send Broadcast On Contact's Timezone
Collapse Menu In Campaign Builder
Consolidate Pop Up Reminders
Some cool things to keep an eye on are a word press plugin with Infusionsoft, landing page templates and massive improvements and reliability on Gmail/outlook syncs, fix corruption of multi-tabbing, opportunities available in mobile coming soon.
One particular feature that I wanted to showcase that's coming in the near future is Website Page Trigger.
This is going to take cart abandonment and so many other marketing/sales functions to a whole new level!
Can you imagine if a prospect that you sent to a sales page came back to that page 6 months later, do you have any way of identifying and following up with them?
Of course, there are great retargeting options with the likes of Facebook and Google.
However, as a business owner, wouldn't it be powerful if you could trigger automation based on when someone visited or revisited a page?
If you want, you could then create a task for a sales person to call them, send them an email with further details or send them a special offer if they don't sign up in a certain period of time – the options are endless!
This will be possible with Infusionsoft's page trigger goals that they will be introducing.
Timeframes is still to be confirmed, however, it is a great step forward to help convert more of your leads from your website.
Can you imagine how many more leads and conversions you'll gain by using this feature?
What could you trigger from a visitor going to a particular page on your website?
One clear message I heard from Infusionsoft at PartnerCon is that they are listening and valuing our input as Partners into the product.
We work with a lot of businesses and hear first hand what the pain points are for customers and want improvements they want to see in the product.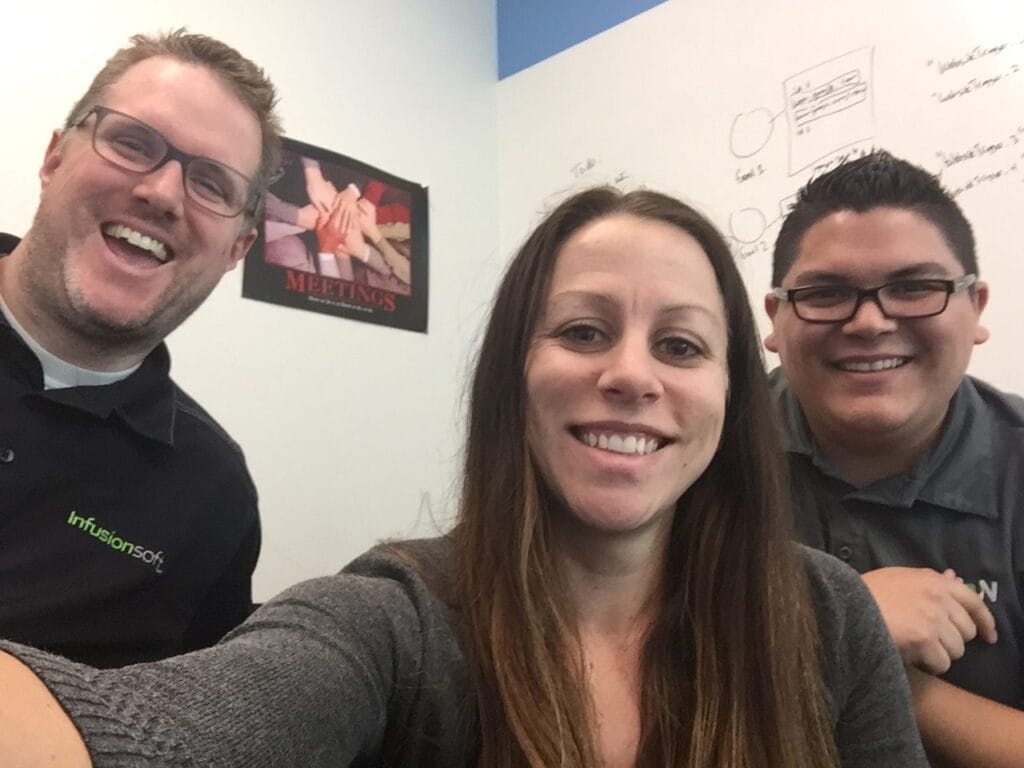 I got the chance to meet with Mike Jaramillo and Mike Fleming both Product Managers at Infusionsoft, to discuss product improvements after the event.
In particular, a passion of mine is around reporting and the fact that we work with many clients who need to export data to excel to compare different data sets from different areas of the app or report on things that can't easily be seen using Infusionsoft's default searches, reports or dashboard.
If you have any input on this topic please feel free to reach out to me and happy to help pass this through.
The consistent product releases addressing features/functionality that Partners and customers are suggesting, plus talking with staff directly at Infusionsoft, I truly believe that they are listening and taking action.
Hats off to Infusionsoft, thank you!
If you'd like to be the first to know about other key updates or hacks about Infusionsoft, sign up to receive updates from us below.