Customer Relationship Management (CRM) is a central database used to store contact information, record historical interactions, automatic repetitive tasks and create alerts for future actions.
For any business looking to become more profitable, scale and/or grow, then a CRM is a must to help:
Before we get into more of the specifics of a CRM, we need to address one obvious flaw with its name.
Despite the word "Customer" existing in the of Customer Relationship Management, a CRM can be used for more than just your customer data.
In fact, businesses use a CRM to store the data of several key contact groups, including:
Keep that in mind when you think about the possibility for a CRM in your business.
How can it help gain visibility and manage the relationships between your business and those relevant parties above?
Should You Worry About A CRM?
You might be wondering; do I really need a CRM?
I have never met a business that couldn't benefit from a CRM.
Particularly when you consider every contact that has ever approached you or you have ever approached whilst running your business.
If you want to do this in a more central and systematic way, then a CRM is the way to go.
Let's look at the core functions of a CRM.
Customer Relationship Management
A CRM can perform many operations for a small business and there are four main functions that the best CRMs should include: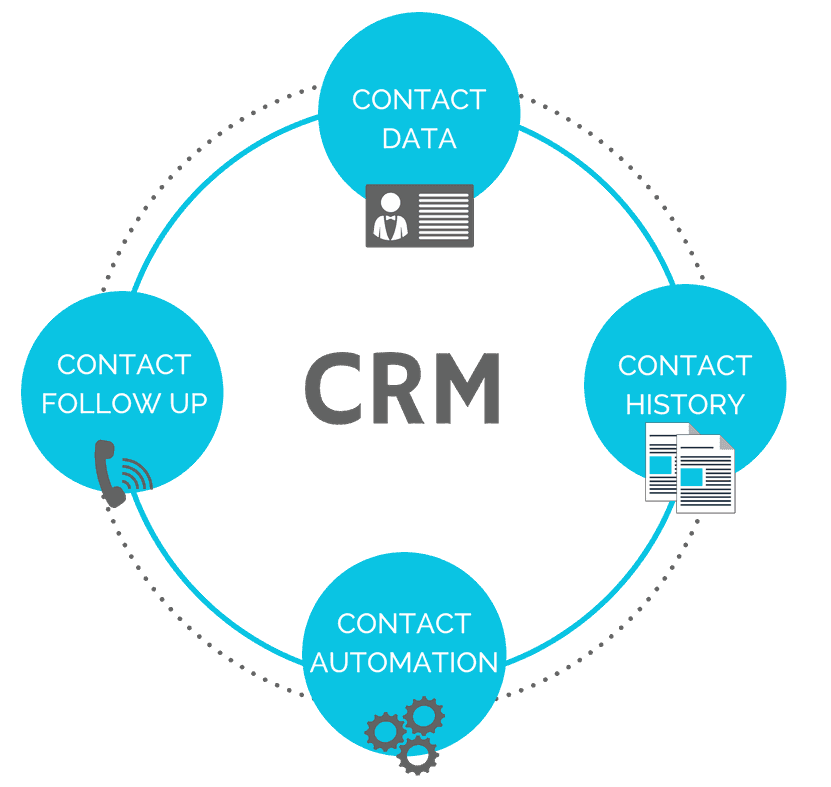 Contact Data
Contact History
Contact Follow Up
Marketing Automation
Let's look at each of these function, how it's often manually completed and what's possible with an online CRM.
Contact data refers to information that you'd like to capture about a person.
Every contact will have the ability to store this data for, however, you may or may not have the data for all.
Typically, the more interactions you have with a contact, the more data is gathered.
Contact data is grouped into these main areas:
If you aren't using an online CRM right now, you might be managing contact data via one of the following approaches:
By having an online CRM to store contact data, will allow your business to:
The second function all CRMs should have is the ability to store the history of key interactions between the contact and your business.
Common contact history that is captured includes:
The common methods of storing this data without a CRM include:
To help address some of the issues above, an online CRM incorporates:

The third function all CRMs should have is the ability to automate follow up.  This includes being prompted with alerts of actions in the future that you need to take to engage with a contact.
For example, Suzie has filled out an inquiry form from your business.  She's phoned by a member of the sales team; however, she is going on leave for 3 weeks now and would like someone to follow up with her when she returns.
If you don't have a CRM right now, you might be running your business via the following method/s:
Failure to have a strong follow-up system in place can make or break your business.
By using a CRM for a contact follow up, you can achieve the following:

The final functionality that best practice CRMs offer is marketing automation, which makes it easy to automate repetitive tasks.
An example of this is automating email follow up after an appointment with a buy now link to finalise payment.
Without a system helping you, you're potentially stuck with one of the following approaches:
Failure to launch marketing automation takes a lot more effort to engage with leads, customers and your other stakeholders as you need to do this manually.
A CRM that also delivers marketing automation offers the following benefits:
A CRM is used as a central place to capture leads once you have generated them via various channels – social media, website, trade shows, networking events and affiliates.  A good CRM should capture where the lead was generated from.  This helps inform how many leads you're getting from various channels, what marketing avenues are working for you – from a lead generation perspective as well as where your best clients are coming from.
Infusionsoft is a powerful tool that covers multiple needs of small businesses including CRMs, lead generations, marketing automation and more.
No matter what system you're using, make sure that you're assessing and utilizing the functionality that is key to a CRM.
Contact Data
Contact History
Contact Follow Up
Marketing Automation
Infusionsoft does cover these off, but I wanted to share some of the additional/advanced functionality that is available with this software:

Customer Relationship Management (CRM)
No matter what system you use, to remain competitive all small businesses must tap into the power of a CRM.  As people say, the money is on the list!  Well, it's in your relationship with your list, however, if you don't have a consolidated list to start with, you don't really have a legitimate business.
Running a business via business cards, spreadsheets or off the top of your head is a lot of pressure, is incredibly risky and a lot more work.
Implementing a CRM that you can use to make your life easier to capture key information about your contacts, capture the history in one location, setup follow up when required, and tap into marketing automation so you don't have to do the same manually every time.
Got CRM questions specific to your business? Click to book in your Free No Obligation Consultation today.
Let's see if implementing a CRM can help double your business like it has done for thousands of others.