Keap Checkout Forms make it easy to get paid online for your products and services, plus increase the dollar value of purchases with Upsells.  In the following video I take you step by step through creating a Checkout Form in minutes, plus how you can add an Upsell.
Checkout Forms are currently only available in Keap Pro and Keap Max (order forms are still available in Keap Max Classic to accept online payments).
Here are the steps you can take to setup your Keap Checkout Form.
1. Log into Keap
2. Select "Money" in the sidebar
3. Select "Checkout Forms"
4. Select the button "Add" and select "Checkout Form"
5. Follow the setup steps, firstly adding the products/services you wish to sell on this specific form
6. Then add your Upsell offer that will be presented on your Checkout Form
7. Select "Next"
8. Name the Checkout Form
9. Update the Headline (if applicable, this will show above the fields on the form)
10. Select which Fields you wish to add (IMPORTANT – highly recommend you add the "First Name" and "Surname" so that it creates/updates a contact in your Keap CRM)
11. Select "Next"
12. Update the styling to include your company logo if applicable and match your branded colours for the background and button and font
13. Select "Next"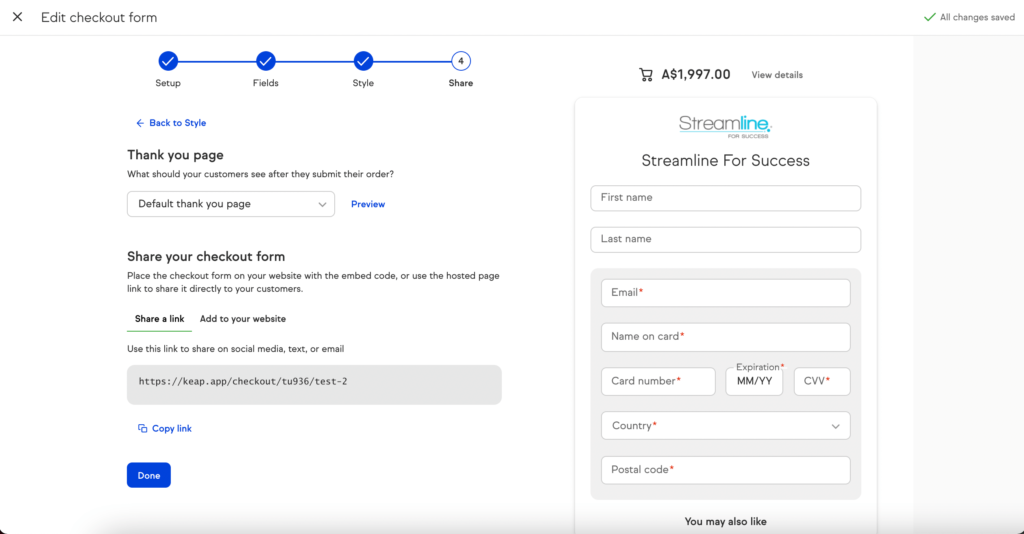 14. Set up your thank you page URL (if applicable, you can use the default thank you message that Keap has as a default for faster execution)
15. Select how you wish to share your Checkout Form (you can either share the direct link or add it directly to your website)
16. Select "Done"
Keap Checkout Forms allow small businesses to easily create a form that can be shared with prospects to pay for products & services.  As you look to set these up in your business in minutes, really consider the upsell opportunities you could add to related products/services, so you can increase the money customers spend with you.
Happy Selling!
Don't have Keap?  Sign up for your
free trial of Keap
.